Page 9 of 11
< Previous Page | Next Page >
The photographs on this page have been sent to us by customers showing how they have made use of our stencils. Click on any image to take you to the featured design in our catalogue.
The following set of stencils were commissioned and painted by a Canadian called 'Mexico Dave'. Although he is an experienced painter and decorator, he has never stenciled before. We helped from afar by answering questions and giving stenciling advice. He is delighted with the service we gave and we are amazed at how good his stenciling looks.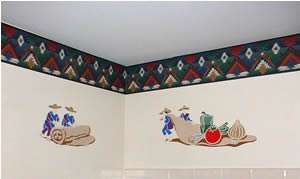 Taco Men (decorating the kitchen area)
"We bought a set of fairy stencils and a castle stencil from your website. Finally, months later, we have a mural on the wall. We are immensely pleased with the products you sent us and the service you provided (you personally sent us stenciling instructions since we are very artistically impaired). THE KIDS LOVE IT AND OUR FRIENDS THINK WE ARE GREAT ARTISTS."
Letter from Gayatri Subramaniam