Page 8 of 11
< Previous Page | Next Page >
The photographs on this page have been sent to us by customers showing how they have made use of our stencils. Click on any image to take you to the featured design in our catalogue.


Child 01 Monkey Jungle Border
Please find attached photos of our finished project using your wonderful stencils. We used it to decorate our baby nursery and add some artistic flair to the jungle theme. My parents did the paintings and help create a wonderful room for their first grandchild
Best regards!
Maureen Talbat-Hechanova from New York, USA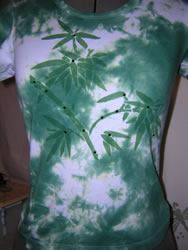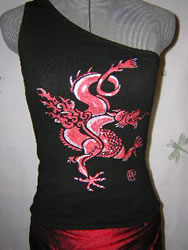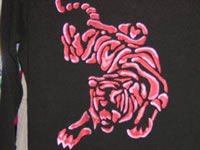 Oriental 26 Bamboo Shirt | Dragon 08 Dragon Shirt | Oriental 13 Tiger
You are able to see the unique and imaginative style of Miranda from NO LABEL COUTURE in the way she has stenciled onto these t-shirts.
---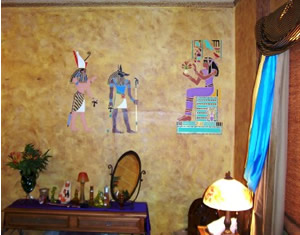 Kathy's Egyptian theme is stencilled in a rich and luxurious style (Anubis, Horus and Hathor).
---
From Helen we have bright and colourful fruit stenciling: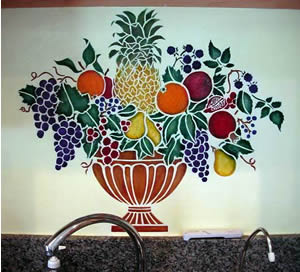 Fruit 03 Fruit Basket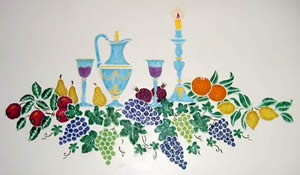 Fruit 15 Fruit with Wine - a design developed especially for Helen
---
At the Braich Goch Bunkhouse in Wales, there are dragons showing the way to the Gents. The males have taken to saying they are 'going to visit the dragons!'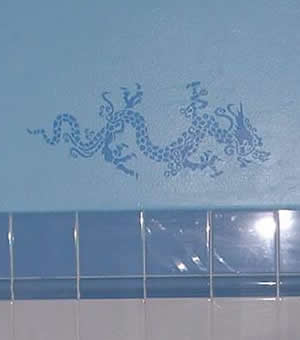 Dragon 09
---
Julie, once again I am thoroughly pleased with your stencils, and your quick order processing. Stencilkingdom is definitely my first choice when I'm looking for just the right image and detail. I LOVE THAT CRAB!
Thank you for the care you take in making an exceptional product.
Carol Hartson, Westminster, MD
---
From Paul Chilton living in the Ukraine, a photo of Celtic Heads decorating a glass table.