Page 11 of 11
< Previous Page
The photographs on this page have been sent to us by customers showing how they have made use of our stencils. Click on any image to take you to the featured design in our catalogue.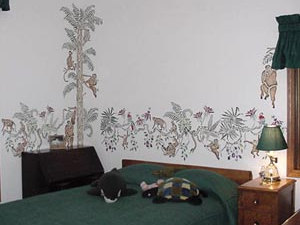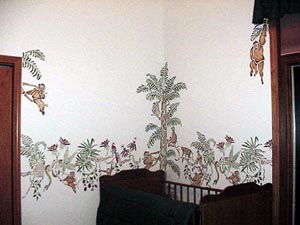 Child 01 Monkey Jungle Border | Child 02 Monkey Height Chart
Despite Toni & Connie Quinn's baby being born six weeks early, they managed to finish the new baby's nursery jungle theme in time. We love the way they have adapted the height chart and used some of it's elements seperately.
---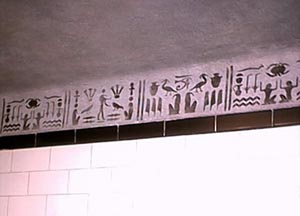 Egypt 11 Hieroglyphic Border
Antonio Delaossa has brought an Egyptian feel to his bathroom.
---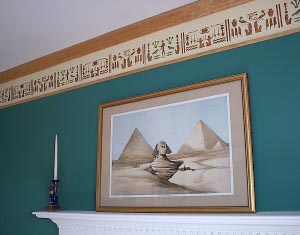 Egypt 11 Hieroglyphic Border | Egypt 12 Figure Border
Immaculate stenciling from Carol Hartson's themed Egyptian room.
---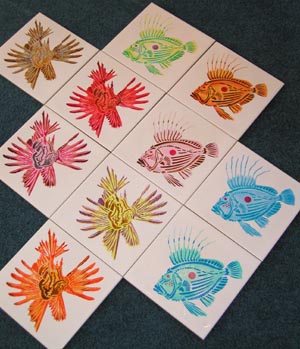 Dr Mary Hardwick has decorated these tiles ready to create a stunning 'underwater theme' in the changing area of a home gym.

How these fish tiles were stenciled:
Use ceramic porcelain & ceramic paint, as dry as possible, with a combination of stencil brush sizes (do a couple of layers to get the coverage).
Bake them at the right heat, for the specified time, according to the manufacturers instructions.
Apply a spray coat of clear sealer to be safe.
---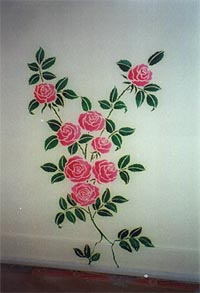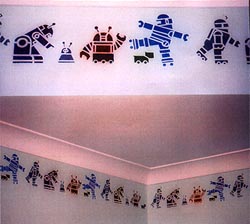 Rose 02 Cabbage Rose | Child 13 Robot Border
Stenciled by Kim Austin
---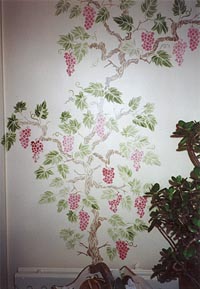 Fruit 01 Climbing Vine Kit
Matti Anderson has had a lot of fun with this grape vine stencil as it trails around her entrance hall.
---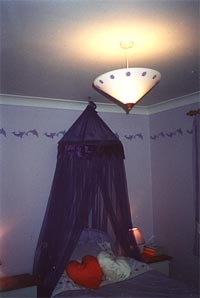 Sea 23 Playing Dolphins
Kate Spalding has decorated her bedroom walls with our playing dolphins as a backdrop to her exotic canopy bed.